Post by TWW on Aug 16, 2007 0:40:41 GMT 2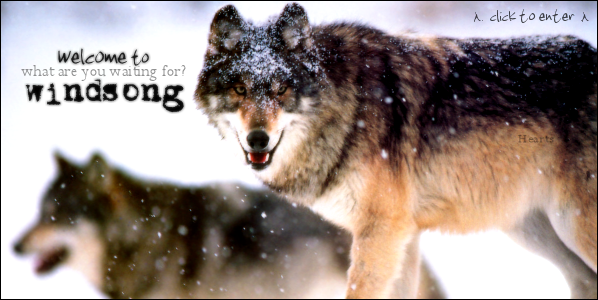 THE WINDSONG WOLVES
» » » » » » » » » » » » » » » » » » »
The land beyond the river isn't an alien one. The wolf packs are there. The trees are silent, the rain is cool., the snow falls in winter and the grass greens in spring. But amongst the wolves are a few surprises.
When wolves of Windsong find themselves being caged ad carted away to a place known only as the "Sanctuary", the world changes from a place of safety to a world of fear…and adventure. The captives pace their enclosures, waiting for freedom and learning more and more every day. Between rescued dogs roaming around and even more bizarre inhabitants, such as "exotic" canines seeking haven there, they learn of the world beyond their new "home"…
» » » » » » » » » » » » » » » » » » »
Wolves are being captured by humans, collared, tagged, released…or kept. Pups are being stolen and friends are going missing. But it the humans aren't the only new threats, or friends it seems.
The Sanctuary, a rescue haven for canines and study center for wolves, takes in wild canines and abandoned ones all the same. The place is over-run with wolves and dogs, with a few coyotes underfoot as well. Occasionally something else appears, such as an "exotic pet" discarded by other humans, or a runaway circus canine like a hyena, perhaps. Their breeding facilities, orphanage, and pens promote research and understanding of the canid world.
The Reservation is human-owned, a place for the "Alpine Pack" to thrive. While they feel they are wild to the bone, this pack is surrounded by walls and observed by their human caretakers, whether they like it or not. They walk the line between being caged and being free, and not everyone is happy with it.
The Outcast Lands are for the packless wolves, the runaways, and the released (or escaped?) Sanctuary inhabitants. Can they find homes before they find destruction, or are they bound to be caught and claimed by the humans?
And the last "free place" is the Wilderness where four packs preside, a mixture of wild wolves, released canines, and even a few rare canids that have found a way to fit in. And while the rival with each other and strive to survive, the constant threat of human interference looms over them.
» » » » » » » » » » » » » » » » » » »
So the question remains…can anyone survive?
A literate, active community of wolf (and other canine) roleplaying, welcoming new members to our cleaned out and all newly designed site! Come check us out in our version three—Windsong: Between Two Worlds.
[/color]